Tips & Feedback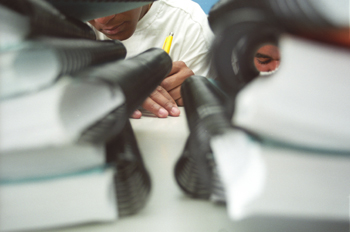 1) Write!
You can write with or without a learning buddy (intercambio). If you want one, try to find one here or somewhere else. Any user on Blogs Exchange can give you feedback. In fact, BE encourages all visitors and users to give feedback about posts written in their native language. But most importantly, with or without an intercambio, you should keep writing, because this is the best way to learn.
2) Respond!
Actually, you do not need to write with a learning buddy, but if you have one, make sure that you respond to all his or her posts, and above all, to any questions asked. Request an intercambio only if you are going to answer on a regular basis. Keep in mind that BE is a collaborative tool. Above all, we insist that if you think you might not be able to respond regularly, you can still create a blog and simply decline the learning buddy option when you register.
3) Use keywords
Tags are really important so that in the future other users have access to useful information about specific topics. We recommend two tags per post.
4) Incorporate feedback into your posts
You can go back and change content through the feedback function. Or even better, keep the original content and incorporate the correct. We suggest the following style guide: put corrections in boldface and the old version in italics.
5) Use BE to ask questions
Use the blog tool to ask questions about language (expressions, grammar, pronunciation, etc.). Think of it as a more personalized version of the most excellent Word Reference… and with a guaranteed response (see 2).
6) Upload your audio files to BE
BE also lets you post audio files to practice your pronunciation. Use the tool Vocaroo for this function. It's free! Once you record the audio file in mp3 format, you can upload it to BE.
7) Personalize
You can also write about your studies or professional interests. Basically, that means kills two birds with one stone. Learn a language while learninga bout your academic or professional specialization.
8) Keep in mind the principle of reciprocity
You can write as many posts as you like, but remember that your learning buddy is probably a busy person. If he or she wants to do it, that's great, but keep in mind that you should be doing the same with his or her posts. Common sense is key for an effective exchange.
9) Subscribe to your learning buddy's blog
We are in the process of developing a tool that will send your learning buddy's posts directly to you, but in the meantime, you can subscribe to your partner´s blog through the RSS tool. You'll see an icon on your learning buddy´s main page. You can also subscribe to all the blogs on the main page if you like.
10) Revise your content!
Revise… whether it is a post or a comment. It is highly likely that you will find a TYPO, something that is especially troublesome for those who are learning your language or for the language you are learning.
And…
How can I learn from my partner?
http://www.sfedu.ru/rsu/tandem/etandem/ethilfen-en.html